From toddlers to teens, our Youth Ministry offers fun, safe activities for our youth while encouraging them in Christ. There are so many reasons a ministry for our youth is important. Children are a gift from God and it is an incredible blessing to see children grow and lead them in this season of their life.
A Youth Ministry is Important Because . . .
Children are important to Jesus. "Jesus said, 'Let the little children come to me, and do not hinder them, for the kingdom of heaven belongs to such as these.'" (Matthew 19:14 NIV). It's made so evident throughout the whole Bible that children are important to Jesus and they are important to us, too!

Children need a firm foundation. "Start children off on the way they should go, and even when they are old they will not turn from it." (Proverbs 22:6 NIV). The time we spend with children at a young age impacts the rest of their lives because the things that are instilled as a child won't be forgotten when they are older.

Children are the NOW generation. "We will not hide them from their descendants, we will tell the next generation the praiseworthy deeds of the Lord, His power, and the wonders He has done." (Psalm 78:4 NIV). We often call children the next generation and a Youth Ministry can equip children to see the calling on their life and make a difference now with their friends and family, in their school, and in the church.
Children & Youth Activities
For kindergarten through the 5th grade, our Children's Church offers a safe, fun environment for children to learn about God as they grow .
Click on the video below to watch this week's lesson.
The Youth Connection
provides a way for 6th - 12th graders to connect and continue to build a foundation in Christ.
Wednesdays @ 6:30 p.m. on our
YouTube Channel
The Ark
meets every 1st Sunday
Join us on
Zoom
at 11:00 a.m.
Meeting ID: 899 8606 2719 Passcode: 36192020
Dial-in number: (312) 626- 6799
FOCUS 45 - Faith - Overcome - CHRIST- Unity - Sacrifice
Colossians 1:10-14
Then you will live a life that honours the Lord, and you will always please Him by doing good deeds. You will come to know God even better. His glorious power will make you patient and strong enough to endure anything, and you will be truly happy. I pray that you will be grateful to God for letting you have a part in what He has promised His people in the kingdom of light. God rescued us from the dark power of Satan and brought us into the kingdom of His dear Son, who forgives our sins and sets us free.


Colossians 2:2 & 7
You have accepted Christ Jesus as your Lord. Now keep following Him. Plant your roots in Christ and let Him be the foundation for your life. Be strong in your faith, just as you were taught. And be grateful.


Colossians 3:4 & 5
Christ gives meaning to your life.... Don't be controlled by your body.... Don't be greedy, which is the same as worshipping idols.


Colossians 3:12-14
God loves you and has chosen you as His own special people. So be gentle, kind, humble, meek, and patient. Put up with each other, and forgive anyone who does you wrong, just as Christ has forgiven you. Love is more important than anything else. It is what ties everything completely together.


Colossians 3:16-18
With thankful hearts we sing psalms, hymns, and spiritual songs to God. Whatever you say or do should be done in the name of the Lord Jesus, as you give thanks to God the Father because of Him.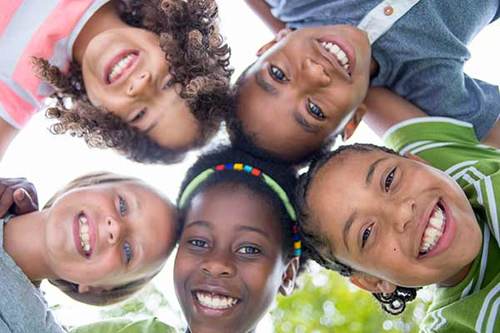 THREE QUICK TIPS TO HELP YOU DISCIPLE YOUR KIDS
Deuteronomy 6:4-9
1. Set realistic expectations.
Family worship doesn't have to look like worship with your church family with singing, prayer, and lengthy and in-depth Bible teaching. We need to be realistic of what our family discipleship will look like. Perhaps that means talking about a Bible story for 15 minutes one night a week at dinner and trying to find one or two times each week to move conversations toward the gospel. Wherever you are, start there and develop rhythms and habits that work and then build on them to get to where you want to be.

2. See family discipleship as a way of life, not a program.
There is nothing at all wrong with having a more organized time of family worship—it is actually a great idea to do that. But we can't see our role as disciplers as a program;
we have to see it more as a way of life as Deut. 6 describes. That means that you want to strive to talk with your kids about Christ naturally as much as possible. Look for themes in shows, movies, and music and talk about how they relate to the gospel. We have natural opportunities to talk about the gospel every day—we just have to look for them.

3. Focus on Jesus
Our goal should be to always point our kids to Jesus. Focusing on our kids' behavior and wanting them to act right is important, But that is not God's heart for them! God is less concerned with their behavior and more concerned with their hearts. And the way our kids will develop hearts that love Him and want to obey Him is through the gospel transforming them. This is why we always need to point our kids to the gospel and allow that to inform how they live. Their behavior matters—but why they behave the way they do matters far more. Focus on heart change through Christ.